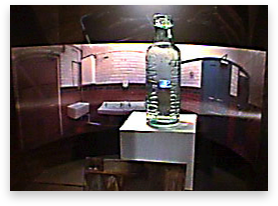 Ghost
is a seemingly ordinary museum display cabinet where moving images suddenly appear inside objects displayed on plinths: a ship floats inside a bottle, a manic torturer flails inside a teapot.
Artists Susan Gamble and Michael Wenyon have made the cabinet during a residency at the Castle in 2001. The phantom images refer to Norwich Castle's history as a prison, as well as the museum's collections and pictures of the Castle today. It is being displayed for the first time at the museum, alongside cabinets containing silver tableware and metal sculptures.
Ghost was inspired by a Victorian theatrical illusion, 'Pepper's Ghost'. 19th century audiences were thrilled by this device, which used a hidden stage and mirrors to show life-sized optical fairies and ghosts on stage alongside real actors. 'Pepper's Ghost' was used at the Egyptian Hall in London in 1876 with images of Lewis Carroll's Alice.
Wenyon & Gamble's work often reflects their interest in technological media and three-dimensional illusion. Now the artists have brought the classical 'Pepper's Ghost' technique up to date, using a hidden liquid-crystal monitor and mirror to reflect a digital video image onto the mirror and over the scene.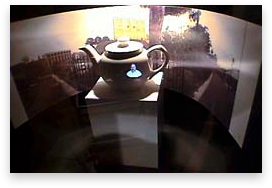 In 2000, Wenyon & Gamble presented an installation of 54 holograms of books at the Yerba Buena Centre for the Arts in San Francisco. The work, named
Bibliomancy
, was made while they were artists in residence at the Boston Athenaeum, one of the oldest libraries in America. They have also been artists-in-residence at the Massachusetts Institute of Technology.
Wenyon & Gamble's residency at Norwich Castle received support under the Year of the Artist award scheme through East England Arts. The role of the 'The Whipmaster' was played by Larry Litt.
Press Release issued by the Norwich Castle Museum, 2002.